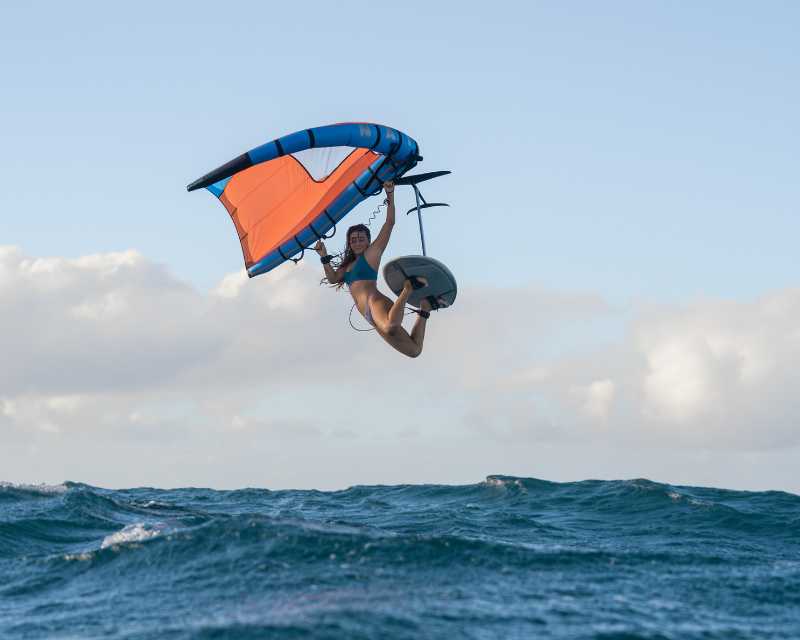 Consistent trade winds make Maui notoriously windy. The valley across the middle of the island creates a natural wind tunnel which means the winds from the northeast make the beaches along the wind tunnel ideal on for any wind related sports: surfing, kitesurfing, windsurfing and wingsurfing. Wing surfing, or "winging" is an increasingly popular water sport, especially on Maui.
Handheld wings are no new invention but in 1986 Tom Magruder, an avid windsurfer and hang glider, created something called the Wind Weapon, that rotated freely on a windsurfing board. While windsurfing rigs have a long bar on the sail, much like the mast of a sailboat. Winging often uses inflatable wings that typically pack into a backpack, making it much more portable.
The handheld inflatable wings used today remain lightweight and give the surfer the opportunity to shift either upwind or downwind much more easily. Magruder actually modeled his Wind Weapon after watching seagulls and becoming inspired by their shifting flight paths.
For those starting out, wings can be utilized on a stand-up paddle board (or SUP) in low wind conditions in order to get a handle on the wings, but for the experienced surfer a hydrofoil board gives you better cruising opportunity.
The difference with winging is that you are not attached to the board, meaning the hand-held sail gives you more opportunity to change direction and easily switch between upwind and downwind sailing, a much more difficult task with a traditional windsurfing kit.
Take Mona Mutzenberg and Rio Imperato, two of our newest Ocean Girls. Earlier this month, they took their Maui Girl suits and spent the day winging in Kūʻau. Imperato and Mutzenberg are on the Naish USA team - a water sport brand that sells everything from SUP to foils. While there are different wing models and board styles for the sport, both of these Ocean Girls typically wing on foil boards with foot straps in order to focus on their wings and be able to pull off more aerial tricks on the water.
Both Mutzenberg and Imperato started winging the summer of 2020 thanks to their parents' interest in the sport. Imperato's father, Alf Imperato, is a famous windsurfer and Mutzenberg's parents regularly windsurfed throughout her childhood. Both Mutzenberg and Imperato live on Maui, and the two met at a Naish wing-surfer photoshoot.
When we reached out to them for a Maui Girl photoshoot with some of our new products, both girls were incredibly kind and happy to spend their time modeling and winging with us. For more about the two of them, you can follow Mona here and follow Rio here.