Five Ways To Style Your Triangle Top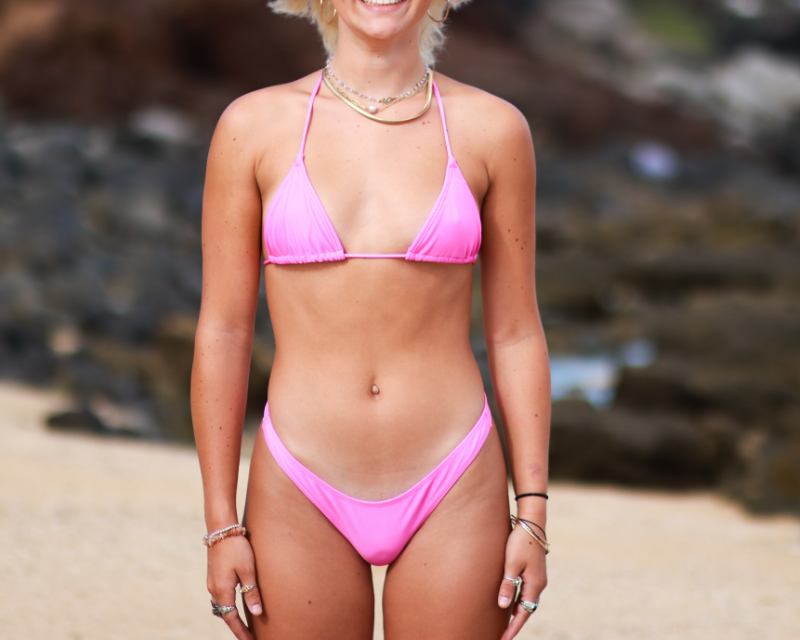 Fashion is ever changing, and versatility in your staple closet items are important. Different ways of styling basics elevate a simple item of clothing from good to great, and swimsuits are no exception. Not only to switch up your style, but also to change up tan lines. 
Here are five different ways you can style your sliding triangle top -
The Scoop Neck



Take your triangle bikini and place the cinched side towards your center line. Tie the bikini as you regularly would and this will give you a crescent tan line on your chest rather than the straight lines with your regular wear.


Crossed Halter Neck

Keeping that cinched side in towards the center of your chest, cross the straps in front of your neck and tie the upper strap around your neck like usual. The cinched side facing inwards keeps this style a bit more secure than just changing the style on your typical triangle top. 


The Bandeau

Another style with the cinched side facing inwards is the bandeau. Take your sliding triangle top and tie the bottom strap roughly the same length as the string between triangles. You can have the tie on either the top of the keyhole or the bottom, but either way this style leaves a nice keyhole in the center of your chest. 


The Criss-Cross Triangle

The criss-cross tie is a fun and secure way to change up your typical bikini. The cinched side of the triangle should be facing outwards, meaning the center bikini line is now wrapped around your neck like a halter. Take the two strings along the inside and entwine them once, then cross them across your chest and behind in order to tie as you usually would. 


The Inverted Triangle

Finally, the inverted triangle. Switch your bikini around and use the string that typically goes along the front as a secured back and tie at the front. This allows you to tighten or loosen your top as much as you need throughout the day. 
Of course, the classic triangle is a staple for a reason and you won't go wrong wearing the suit exactly as you saw it on the hanger. But for those days when you want a bit of a change but don't have the time to get a new suit, try one of these takes on the style and let us know how it went.